Team-development in times of crisis – help!
It looks as if the Corona crisis has thrown our team back a long way, like we're back in the Forming phase. What does that require from me as a manager?
"I have great people in the team….. And yet things aren't going well. Not the process, and also the atmosphere could be much better. People are annoyed with each other, and in the meantime they look at me and expect me to solve everything."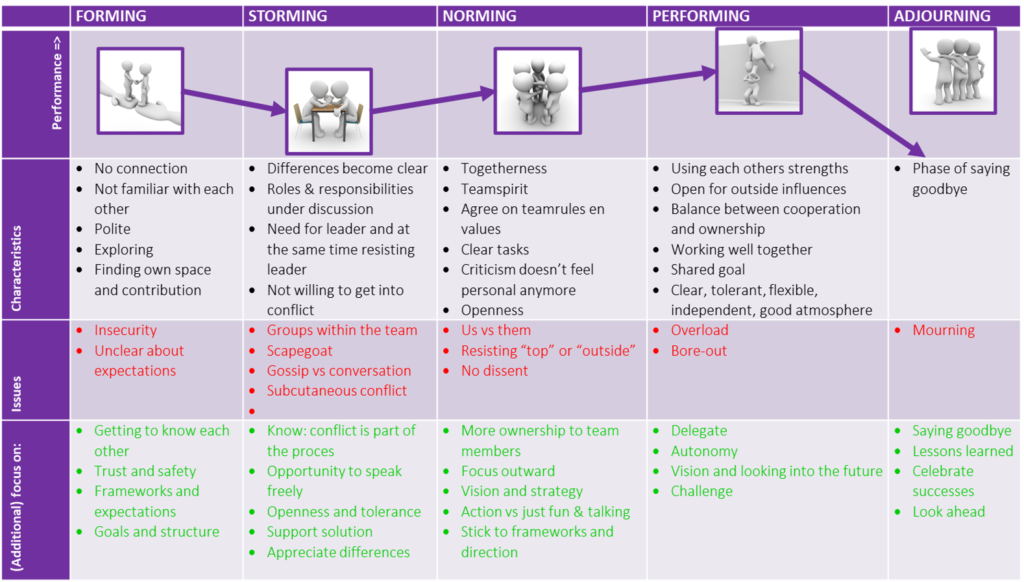 Frustration for the manager and frustration for the employees, who can't do their job well. In many team sessions I facilitate, I  show the model of Tuckman.
An old model (1965), which is also at the heart of other team phase models. I still like to work with it, because almost all teams immediately recognize things.
That recognition often brings immediate peace. And distance, so they can step out of their own patterns and frustration and can decide what to do next.
In the model, Tuckman describes the phases that a group goes through – or has to go through – in order to achieve a good collaboration. Many teams linger in one of these phases so that the group will never really function optimally. Tuckman describes 5 phases, I leave out the last phase (adjourning) in this article.
1. Forming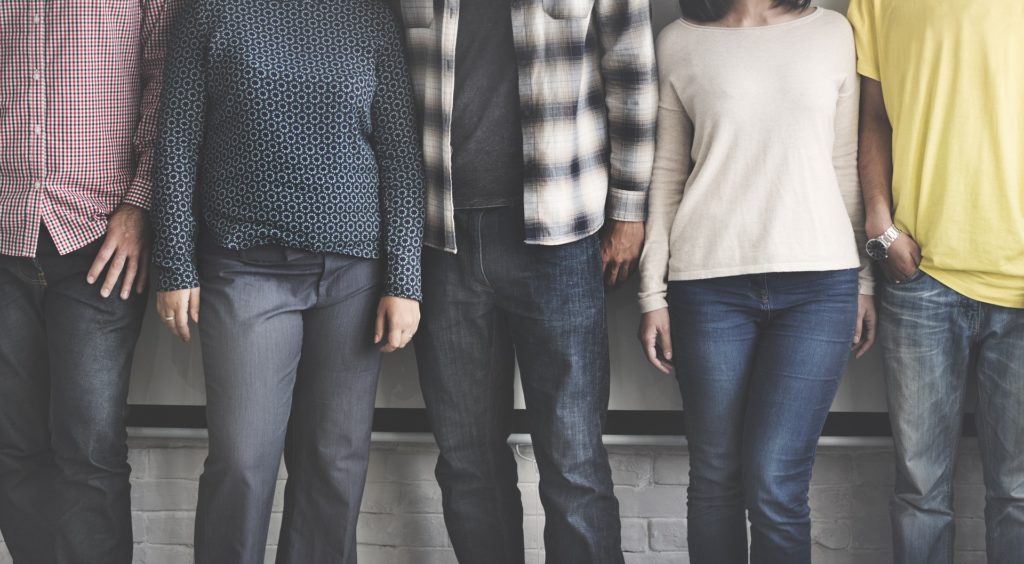 Who are we, what do we do and where are we coming from?
At this stage, the team forms. Individual team members, loose sand. People are politely scanning each other, each individuel is looking for their own place and contribution, people don't know each other and each other's approach very well. There may be uncertainty about roles and tasks.
At this stage it is important to get to know each other. As a manager you are visibly present at this stage. Help to build up security.  Clarify frameworks and expectations. Clarify the goal and structure.  And build trust and safety within the team.
2. Storming
At this stage, the differences between the team members and their personality and approach become visible. The loose sand starts to rub off a bit, there are some irritations.   Under the skin, that is, because we do not dare to enter into the conflict openly yet.
There's a lot of gossip about each other, instead of a good dialogue with each other. This can cause little groups to form within the team and sometimes even a scapegoat. Often the manager is looked at with the expectation that he/she will solve it. At the same time, the manager also meets resistance and discussion about tasks and responsibilities at this stage.
What is good for both managers and team members to realize is that this phase is really necessary, however uncomfortable. It is important to create opportunity at this stage to speak freely about each other's differences, but also to appreciate the strengths and benefits of it.
For the manager, it's important not to go directly into the expectation that you're going to solve everything. Get people to talk to each other, facilitate the conversation and don't cover up everything.
3. Norming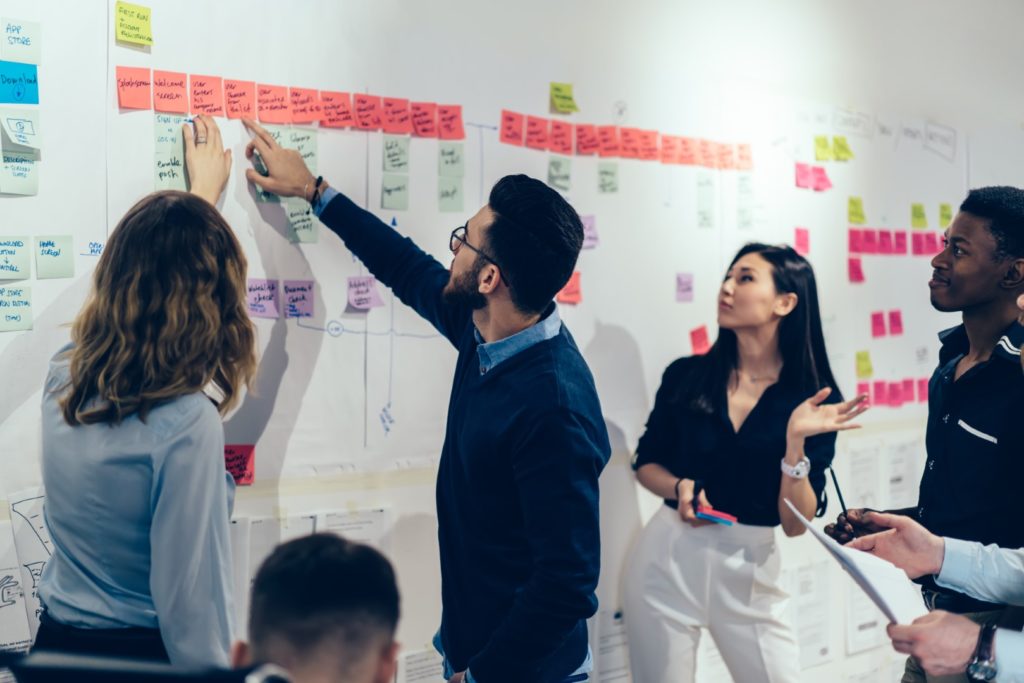 Working together or working as a team?
At this stage, we set our standards of conduct, our teamrules.   What do we stand for– how do our group values express themselves in our behaviour – what are our do's and don'ts,  how do we work together?
At this stage, we're starting to have a good time as a group. There's a danger that we're going to have too much fun together. That we like to be alike, that dissent is not welcome. That we are losing sight of the outside world, that cooperation is all that matters.
It's up to you as a manager to keep an eye on the balance. Make sure you continue to pay equal attention to the two goals each team has: (1) Getting results and (2) Having a good time together. Hold on to the frameworks, keep paying attention to vision and strategy, stay on track.
4. Performing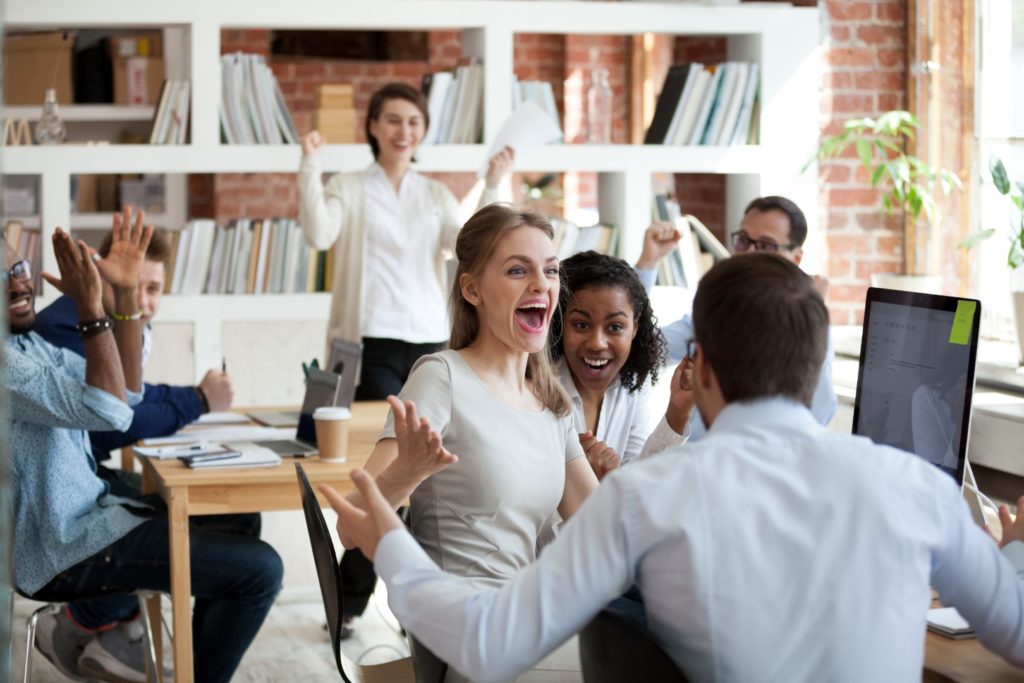 Finally, here we are. Now that we have gone through conflicts together, we have set our standards of conduct – we are able to  function optimally.
As a manager, you have been able to step down more and more over time and the team has become more autonomous and self-managing.
It is now up to you to keep an eye on the big picture and the vision for the future and to continue to connect (the people in) your team with results. And start again from scratch as soon as a team member joins, the organization changes, or our complete context, as in the current Corona crisis, changes…..
Back to daily life.
Insight works wonders. It helps when we as a team look sincerely at where we are as a team now. And start again from that reality check.
---
Get started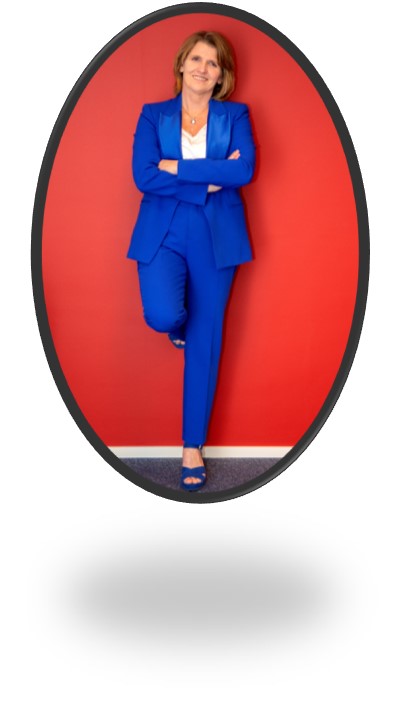 Do you want to dive into this a but further or get started right away?
Feel free to immediately plan a half hour sparring with Sandra Geelink directly in the agenda.
Do you want a quick overview of what is required of you as a manager in times of crisis? Register now for the Turbo training "Remote management – in times of crisis".